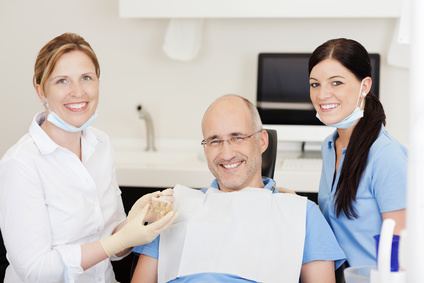 Introduction:
Are you desperately in need of an effective solution for missing teeth? Well, Dental implants may be the perfect solution you are looking for. Whether you lost your teeth because of poor dental hygiene or by accident, dental implants will replace your missing teeth and you will be able to smile again.
Essentially, there are two types of dental implants; subperiosteal and endosperm. Subperiosteal implants make up the metal frame installed on the cheek bone and gums. The gums heal and the bone structure becomes permanent. On the other hand, Endosperm Implants are directly inserted in the jawbone. They are also the most common type of dental implants sought by millions of patients.
Normally, dental implants are made of Titanium. Unlike dentures and bridges, dental implants are a much more permanent solution for lacking teeth. Although bridges are also permanent, they have to rely on other surrounding teeth for them to permanently stay in place. For a more natural look, go for dental implants. This is because, the procedure replaces one tooth at a time and since they are placed in the tooth root, they are hard to notice.
Fact is, dental implants look exactly like the real teeth. If you ask another person to identify your implant from your actual teeth, it will be impossible for them to tell.
The Process
There are three major steps for installing implants. The first step of these three is surgery, preparation. Here, your mouth is examined and analyzed with CT scans and X-rays. This is the step that determines your treatment.
Secondly, the tooth implants will be inserted directly into the jaw bone. Osseo integration will then take place, which take a few weeks. That being said, a temporary tooth will be inserted as you await your second appointment.
Finally, an artificial crown is attached to the dental implants. After this process, your dental implants which will be looking exactly like natural teeth will be fully functional.
Advantages of Dental Implants
Boosts self-esteem – as much as dental implants are meant to give you your smile back, they also make you feel good about yourself by boosting your confidence and self-esteem.
Improves your overall appearance – Dental implants look and feel exactly like your natural teeth making you maintain a good and more natural look; one that you had before losing the tooth (or teeth).
Makes chewing easy – since implants feel and function like natural teeth, eating will be easy. The implants are permanent enough to handle chewing.
Improved dental health – with dental implants you will not have to worry about losing more teeth or replacing teeth ever again. All you need to do is take care of your teeth by brushing more often and avoiding sugary foods.
Conclusion:
Prior to having your implant placed, ask the surgeon or the dentist to explain everything to you. If by any chance you feel that he/she did not give you adequate information, and then wait until you are mentally ready.